Keys to Fundraising Success
Philanthropy World - 2004 Mike Jones, CAI, GPPA
A Team effort... The success or failure of a live auction depends on the group's commitment of time, planning and contracting the right professionals. Conducting some of the nation's largest and most prestigious fundraising events has afforded me the opportunity to view the process from a unique prospective.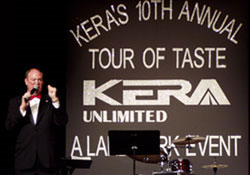 Auctioneer Mike Jones working the crowd at the annual KERA Tour of Taste auction, Fairmont Hotel, Dallas
Success begins with... A successful fundraising auction begins with the chairman and committees. The live-auction chairman should be strong, well-organized, resourceful, not afraid to ask for help, and thick-skinned.
Committee members should be goal-oriented, energetic and tenacious. Always include new faces, and line up plenty of volunteers.
If this is a first-time event, seek the invaluable advice of a professional auctioneer with a reputation for conducting fundraising events.
A good auctioneer pays for himself... Some groups make the mistake of thinking they cannot afford a professional auctioneer, but a good auctioneer pays for himself. There is simply no substitute for the excitement a professional auctioneer can create. When choosing an auctioneer, make sure he is a member of the National Auctioneers Association and his/her state association. In some states, compensated auctioneers must be licensed.
Award-winning results are not accomplished by accident. Auctioneers have been trained on the microphone and make great emcees. He should be personable, think well on his feet, and be flexible. With crowds sometimes exceeding 2000, it is challenging to deal with spotlights, cameras, crowd noise, audio equipment and sometimes, outdoor elements.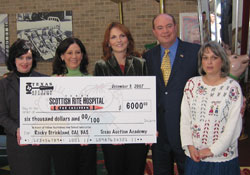 What worked and what didn't... Groups who conduct annual events should schedule a meeting two to three weeks after the auction to discuss what worked well and what did not. Take special note of what sold well and built upon it. Look to your patrons for donations, many of whom have summer and winter homes and hotel stays that go unused, frequent flyer miles, and other special items that can be used to build fun packages and theme trips.
Venue and logistics... When setting your events date, avoid competing with other major events. Venue and logistics are important, as is a proper sound system.
Patrons will not bid if they cannot hear the auctioneer. I also recommend maintaining a live-auction manual to help future committees.
Using volunteer bid spotters (people who take the bids from patrons) is not advisable. Volunteers are easily distracted and have no working relationship with the auctioneer. Bid spotters and auctioneers have their own form of communication.
Event timing... Event timing is extremely important. Plan special receptions and gatherings from 5-6 PM. Open the doors at 6 – 6:30 PM and start the silent auction. Around 7 – 7:30 p.m. serve dinner and make the announcements and special recognitions. Ideally, the live auction should start between 8 and 9 PM while guests are fresh and attentive.
It is imperative that other activities do not compete with the live auction. You want all eyes on the auctioneer. Momentum is paramount, and asking the auctioneer to close silent auction sections during the live auction is discourages.
The key... The key to fundraising event success is making the live auction special. Your goal is to have a memorable night, raise a lot of money, and have your guests go home happy. Hire a professional auctioneer to help ensure your success. See you at the auction!