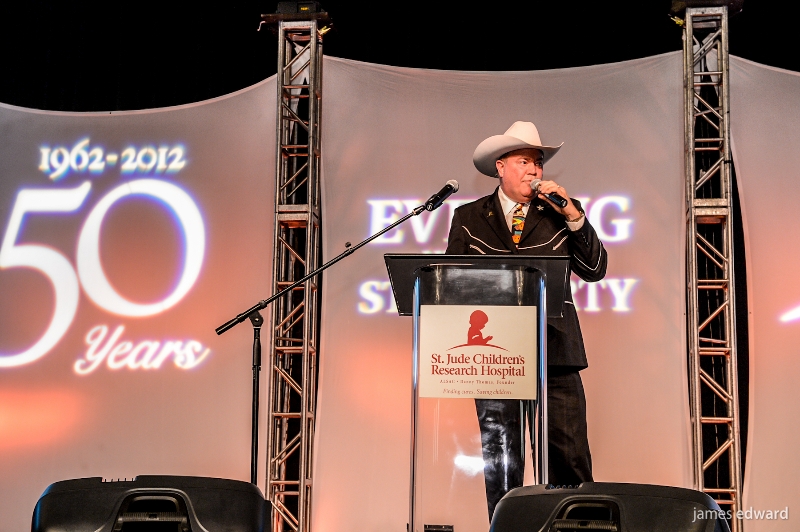 It was an emotional and giving night as patrons packed the Omni hotel ballroom for the annual St. Jude Evening Under
the Stars Party benefiting St. Jude Children's Research Hospital October 13th in Dallas. The event featured a great live auction, silent auction, Give to Live campaign and spirited performance by country's John Rich and Kenny Alsphin better known as Big & Rich. The event brought in over $780,000 to benefit the children of St. Jude.
"Sold! $30,000 dollars …bidder number 921!" proclaimed United Country Auctioneer Mike Jones as an exclusive trip to Ireland set the tone for the Live Auction. The impressive trip did not include airfare, but featured exclusive golf outings and unique castle tours. Other auction highlights included a Virgin Islands trip $11,000, Dinner with Air Force pilot and United States patriot Scott McGrady $7000 and show stopping sapphire bracelet $7000.
The event marked the 50th Anniversary of the hospital founded by Danny Thomas and his friends. One of those close friends was a young Joe Haggar, Jr. who met Thomas when he was just 19 years old but was one of St. Jude's most devoted and loyal supporters. Over $7.4 million dollars has been raised by a golf tournament Haggar started in 1995 and the St. Jude Evening Under The Stars Party added in 2002. Haggar passed away in June at age 87. Historically, it is noted his long tenure on the St. Jude hospital board and his recognition as being the clothier for President Lyndon B. Johnson.
It was obvious to all that attendees wanted it to be a special night of celebration and recognition for Mr. Haggar. Special honorees Mary and Mike Terry and ALSAC/ St. Jude CEO Rick Shadyac each openly expressed their love and appreciation for Mr. Haggar's mentoring and inspirational lifestyle. Also in attendance, Isabell Haggar, his
wife of over 63 years who will continue the families support of St. Jude. This year's event co-chairs were daughters Marian Bryan and Lydia Novakov.
Mr. Haggar had a huge impact on one of St. Jude's corporate partnerships. He sat on the board of Brinker International during the time Chili's began its partnership with St. Jude. His passion for the hospital inspired the Brinker leadership team and Norman Brinker, Doug Brooks and others that have followed in Mr. Haggar's footsteps to carry the same love and passion for the hospital as Mr. Haggar always had. This partnership with Brinker and Chili's has generated more than $41 million for St. Jude's mission.
"We are very proud to have been involved and contributed to the St. Jude Evening Under the Stars Party event since the beginning and the hospital has become a very important part of our lives. I believe God sends us angels and for me personally, Mr. Joe Haggar, Jr. was one of mine."
"It has been an honor to know Mr. Haggar and participate in his and Danny Thomas' dreams." remarked, Auctioneer Jones. Adding "the world would be a much better place if there were a million more Joe Haggar's out there. We will miss him but will continue his dream and in time celebrate the elimination of childhood cancer".
United Country Auction Services is a division of United Country Real Estate, the largest fully integrated network of conventional and auction real estate professionals in the United States and Central America. The company has been an innovator in real estate marketing since 1925. United Country supports nearly 550 offices across the U.S., Costa Rica, Panama and resort areas of Mexico, with a unique, comprehensive marketing program that includes one of the largest portfolios of property marketing websites (more than 3,000 separate sites and traffic of approximately 3 million visitors per month), United Country reaches more than 90 million homes per week. United Country has recently been recognized by Franchise Business Review, AllBusiness.com, The Land Report, Entrepreneur and The Wall Street Journal as one of the top U.S. real estate companies.
Jones is the President of United Country Auction Services and has been an auctioneer for over 33 years conducting over 3000 auctions. He is the only member of the National Auctioneers Association to attain the NAA "Triple Crown", as the 1998 International Auctioneer Champion, 2004-05 Past President and 2012 NAA Hall of Fame member. Jones is also President of the Texas Auction Academy training school and conducts over 100 charitable auctions per year. Jones clients include the National Football League, Ducks Unlimited, American Heart Association, American Cancer Society and others. He has been featured on numerous television programs including the Kathy Griffin Show, FX Breakfast Time, Texas Country Reporter and Fast and Loud. To learn more, go to www.classicauctioneers.com and www.ucauctionservices.com