We Know Fundraising
Mike Jones and his Team of Professionals conduct American's most Prominent
Benefit and Fundraising Events... Shouldn't We Conduct Yours?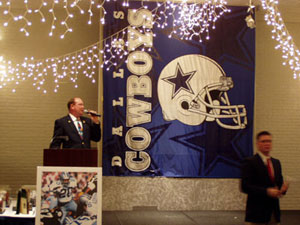 For over 30 years, Professional Auctioneer Mike Jones and his team has raised millions of dollars for local and nationally recognized private groups, charitable groups, private schools and institutions.
We conduct benefit and fundraising events weekly for groups ranging in size from 100 to 4,000. There is a reason that America's largest philanthropic organizations use the talents of Mike Jones and his team on a regular basis.
There are special skills required to work fundraising events - it requires a combination of entertainer, Master of Ceremonies, fund raiser, and Auctioneer. Our Auctioneers and Auction staff possess the skills and professionalism required to ensure that your organization is represented in the most professional manner possible and that your charitable event is a resounding success.
Our customers know that having the RIGHT Professional Auctioneer and Auction Team will pay for itself many times over. In most cases, our Auctioneers will drive the price on one item up enough to more than pay for our services.
Across North America, our team of Professional Auctioneers has been dispatched on a regular basis to conduct major charitable events from conducting the National Football League Charities at the Super Bowl to the Lance Armstrong Live Strong Foundation to the largest fundraiser for the American Cancer Society, our team has raised tens of millions of dollars for charitable groups, foundations and private institutions.
We provide:
Professional Auctioneering
Professional Bid Spotting
Professional Clerking
Silent Auction Oversight
Pre-Auction Advisory

Event Recommendations
Live Auction Sale Order
Post-auction reporting.
We can provide you with all of these services or any combination depending on your events specific needs. The bottom line is, we provide what maximizes your Bottom Line!
From recognizing and encouraging key bidders to setting the right tone for your event, the Mike Jones Team understands what it takes to have a successful benefit & fundraising auction.
High profile events all over the United States - St. Jude's Children's Hospital, National Football League, Dallas Mavericks Foundation, American Heart Association, American Cancer Society, March of Dimes, United Way, Cattle Baron's Ball as well as numerous private school fundraisers and institutions. They all call Mike Jones on a regular basis, to generate income for their projects and their causes.
30 YEARS OF SUCCESS WORKING WITH PEOPLE YOU KNOW
TX Scottish Rite Children's Hospital
Cattle Baron's Ball
Central Texas Montessori Schools
Cystic Fibrosis Foundation
Meals On Wheels
CASA
Junior Achievement
Highland Park Pres. Day School
NFL - Super Bowl Fundraiser
Ursuline Academy
Water Tower Theatre
St. Mark's School of Texas
Parish Episcopal School
Dallas Christian School
Legacy Christian Academy
Lakehill Prep School
American Heart Assoc. - Cotes Du Coeur
KERA - Tour of Taste
Pebble Beach Party
Easter Seals
Ducks Unlimited
Selwyn School of Denton
Sanger Chamber of Commerce
Richardson Heights Baptist Church
Optimist Club - Denton
Assembly of God Church - Gainesville
Cooke County Heritage Society
Arts Guild of Denton
Kiwanis Club of Dallas
Sewell Lexus - Dallas
Edna Gladney Gala - Ft. Worth
Spring Fling Art Auction w/ Jazz Great Al Hirt - Denton
Holy Cross Catholic Church
Colleyville Baseball Associations
Zonta Club of Dallas
Parker County 4-H Club - Weatherford
Boy Scouts of America
Danny Darwin Celebrity Open Golf Tournament benefiting North Central Texas College Baseball
Gleneagles Golf Auction - Plano
Elizabeth Glazer Pediatric Aids Group
Ben E. Keith Company - Dallas
DMA-Dallas Museum of Art
Dallas Zoological
Hockaday School
Equest
DIFFA, the Design Industries Foundation Fighting Aids
St. Jude Children's Hospital
Habitat for Humanity
Dean Fearing Summer BBQ - Benefitting TACA
Ducks Unlimited
TACA
Communities In Schools
Cattle Baron's Ball - Dallas
Christian Works for Children
Crew Gala - Commercial Real Estate Women
Ft. Worth Christian School
Lakewood Elementary
Northwood Woman's Club
Bishop Lynch School
St. Mark's of Texas
St. Mark's of Plano
St. John's Episcopal School
Frisco Project for the Future
D'Art - Dallas
Coca Cola Halloween "Monster Jam" with Emmitt Smith and Celebrity Guest benefiting Big Brothers & Big Sisters Foundation of Metropolitan Dallas
Abe Beckman Pro-Am for the Boys & Girls Club of Gainesville
Emergency Medical Service of Cooke County
United Services of Bedford to benefit United Way
Fidelity Investments of Irving to benefit United Way
Wilson N. Jones Hospital - Texoma Scramble - Sherman
Hanes U.S. Olympic Team Best Wishes & T-shirt Auction - Dallas
Dr. Pepper - Dallas All Sports Association Celebrity Golf Classic Auction - Prestonwood CC, Dallas
U.S. Olympic Committee Celebrity Golf Tournament Auction - Prestonwood CC, Dallas
Lions Club of Dallas
Hospice of Wichita Falls
UICI United Way Auction - Dallas
Schola Cantorum of Texas - Ft. Worth
Make-A-Wish
Colorado Symphony Orchestra
Dallas Heritage Village
SPCA of Texas
Operation Kindness
MOSIAC Heart & Soul Gala